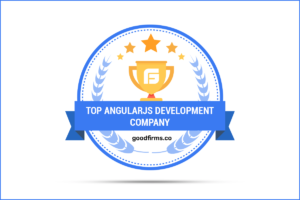 Aguai Solutions is a top-class software and web development company who has a strong competency in employing frameworks like AngularJS. Founded in 2013, Aguai Solutions has its office in Bangalore, India with an enormous team of developers, designers, and project managers launching exceptional software and
websites.
Their team is well versed with modern engineering practices and they put tremendous efforts understanding the clients' needs to deliver scalable IT products. Transparency, trust, teamwork, and leadership are among a few values that Aguai observes.
GoodFirms – a B2B research and review agency thoroughly analyzed Aguai Solutions and recognized its marvelous performance.
Quality:
Aguai Solutions offers quality rich products and uses sprint methodology to deliver software. Moreover, the company uses automated testing model for inspecting the final product. Along with this, they take extra care for developing codes that promote their quality aspects.
Reliability:
The firm has accumulated vast experience in the industry and successfully penetrated the global markets by serving key clients like – RBL Bank, SingnalVue, EFGH, and Ateb Inc. Majorly these clients belong from small and mid-size business enterprises. Apart from this, Aguai has delivered software and web products for multiple industries like healthcare (30% of total industry focus), Information Technology (30%), finance (20%), others (20%). The agency is open for customization and proactively caters to the needs of clients pertaining from a specific business niche.
Ability:
The firm has established a thriving portfolio, which showcases its efficiency in the arena of software and web development services. Along with a strong portfolio, the team also believes in augmenting solutions leading to higher client satisfaction rates. Moreover, Aguai also uses a virtual CTO to ensure implementing the precise technology to achieve a competitive advantage in the industry.
ScoreCard Illustrating Aguai Solutions Performance at GoodFirms:

Aguai Solutions has achieved a praiseworthy score on the three vital parameters of GoodFirms for its Software development services. Such extraordinary performance of the team at Aguai has earned the company a remarkable position at GoodFirms.
In addition, after minutely scrutinizing the company's expertise in frameworks like AngularJS development, the researchers at GoodFirms believe that the agency will soon appear on the list of top AngularJS development companies.
The Path Ahead for Aguai Solutions at GoodFirms:
Apart from creating unique business software, Aguai Solutions also offers web development services for its global clients.  The company has a dedicated team of designers and developers who are invariably working towards achieving the common objective of delivering user-friendly websites that are not only attractive and informative but are also extremely scalable.
Sneak Peak at the Rave Review Achieved by Aguai Solutions at GoodFirms:
"Aguai helped us with the app and web development. They are very professional, promised realistic timelines and lived up to them. The people who they deployed for our projects were technically very sound and the management layer brought a sound business understanding to our project requirements. Hence it was a very satisfying relationship and we certainly recommend them."
Gururaj Potnis CEO, Founder at EFGH Happidoc
The significant web development offerings of Aguai Solutions and their constant pursuit of delivering the best website will certainly place the company among the list of top web developers in India at GoodFirms.
About GoodFirms:
Washington, D.C. based GoodFirms is a maverick B2B research and reviews firm that aligns its efforts with finding the top web development, software development companies delivering unparalleled services to its clients. GoodFirms' extensive research process ranks the companies, boosts their online reputation and helps service seekers pick the right technology partner that meets their business needs.
About Author:
 Anna Stark is presently working as a Content Writer with GoodFirms – Washington D.C. based B2B Research Company, which bridges the gap between service seekers and service providers. Anna's current role lingers her to shape every company's performance and key attributes into words. She firmly believes in the magic of words and equips new strategies that work, always in with ideas, something new to carve, and something original to decorate the firm's identity.